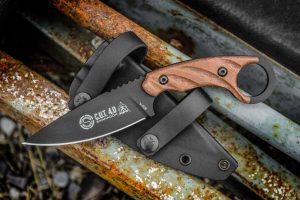 Having a martial arts background I have done some training with the karambit and have really been a fan of ring style knives and their prowess in combative applications. However, also being an avid outdoorsman I have found them to be less than ideal as a field utility blade. This was the thinking behind the C.U.T. 4.0 (C.U.T. = Combat Utility Tool), being a combative ring knife with a utility style blade for field use. I utilized the curved handle and ring of a karambit for superior comfort and utility during combative uses, but opted for a traditional drop point blade profile for ideal utility in the field. The aggressive tip provides for maximum penetration during combat, allowing the C.U.T. 4.0 to penetrate body armor and heavy clothing much easier, while also being useful for drilling chores during fieldcrafting tasks. The C.U.T. 4.0 was designed with professional personnel in mind, but will also make a great EDC for civilians and martial artists who like the diversity of a dual purpose knife.
The fact that one of the initial intents of this knife was for military and law enforcement personnel, I was very proud to be sent this photo from an undercover S.W.A.T. and DEA Officer and notified that it has become a part of his permanent kit. Designed with door kickers in mind, it is right at home on his rig.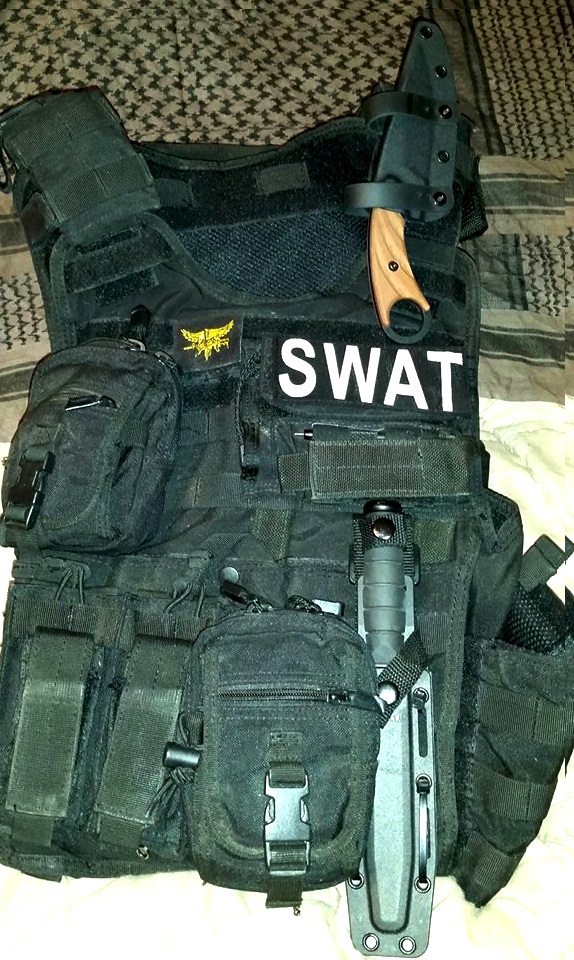 Knife Type: Fixed Blade
Overall Length: 8.50″
Blade Length: 4.25″
Cutting Edge: 4.00″
Blade Thickness: 0.190″
Blade Steel: 1095 RC 56-58
Blade Finish: Black Traction Coating
Handle Material: Tan Canvas Micarta
Handle Style: Dragonfly Tread
Knife Weight: 6.3oz
Weight w/ Sheath: 9.0oz
Sheath Included: Yes
Sheath Material: Black Kydex
Sheath Clip: Beta Loop
Purchase: https://www.topsknives.com/c-u-t-4-0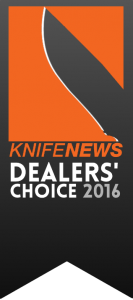 The C.U.T. 4.0 was Voted Best New Fixed Blade for EDC 2016, in KnifeNews.com's Dealer's Choice Awards. Click here to read the whole story.
Due to some health issues I have been unable to get some good photos of the C.U.T., but I will soon, so there will be more photos to come. Also, there are a lot of others taking great photos of the C.U.T. on different social media platforms on the internet and I will be asking permission to use the photos.

MEDIA
Here are some videos of people reviewing the TOPS Knives C.U.T. 4.0 including the introductory video from TOPS Knives and one from me at 2016 SHOT Show. There are also a lot of out of the box reviews, but I didn't want to include all of them, but I did include a couple.
Written Reviews
I have decided to leave out the most of the press releases because there were a lot of them and they all say pretty much the same thing.
Personal Defense World Release
BEST NEW FIXED BLADE FOR EDC 2016: Meet the Contenders
TOPS C.U.T. 4.0 Voted Best New Fixed Blade for EDC 2016
DESIGN
As with the Backwoods Skinner, you can see from my original drawing that the design didn't change much from inception to production, other than the name – which went through a couple iterations before Craig Powell, General Manager at TOPS Knives, came up with C.U.T. 4.0 which was the absolute best name for this knife by a long shot. I am very proud of that fact in both of my knives.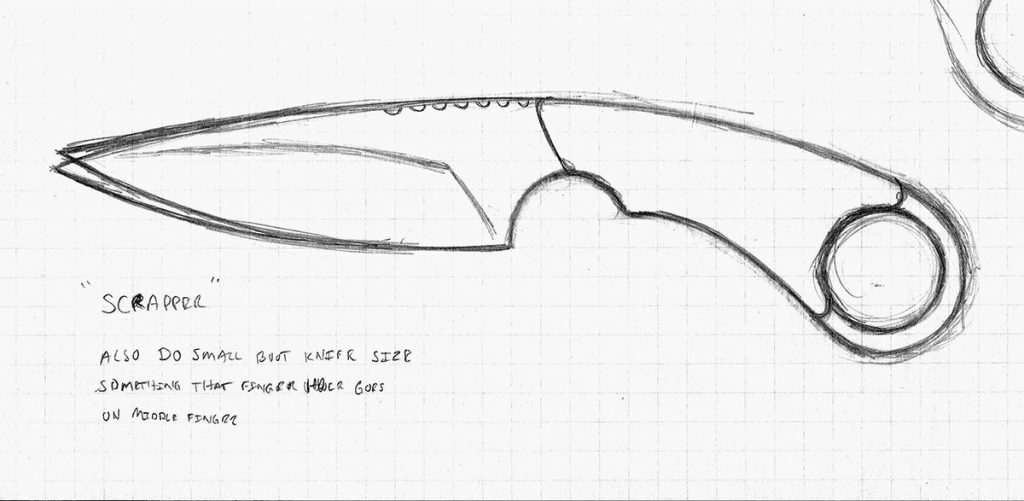 After the initial sketch phase on graph paper, I took it into Adobe Illustrator and created the digital drawing with a few tweaks. You can see that I had already changed this name at this point, but this name is already being used and is trademarked, so it finally became the C.U.T. 4.0

After showing the design to TOPS Knives, Mike Fuller, Owner of TOPS Knives, said he really liked it a lot and asked if I could do some different patterns on the scales for grip and design. This was the design I sent him, which was the beginning of the "Dragonfly" pattern now seen on a few other TOPS Knives –which is something that I am very proud of.