For as long as I can remember I have been drawn to knives. I have always viewed them as more than simply tools, but functional artwork. Perhaps it was my love of the outdoors or my years of martial arts training, but I have never felt comfortable without at least one knife on me at all times. It never fails, when you find yourself without a knife, is when you need one the most.
I have been designing knives for a few years now and have a couple currently in production with a few for potential production down the road. When I design a knife I don't try to design a knife simply for the purpose of designing a knife, or making money. I try to come up with designs that I would really like to see, or that I find a need for. I like to call my designs "I wish I had…" designs. I try to make all of my designs purpose built, even the small designs have their reasons. My good friend Mike Fuller, owner of TOPS Knives, once told me that every knife should have a story and a purpose and I have always held that advice to heart.
Below are my current designs on the market, along with their story and details on the design itself. I pride myself in the fact that my designs are 100% U.S. made.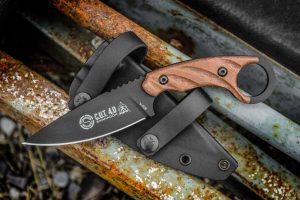 TOPS Knives C.U.T. 4.0
TOPS Knives Backwoods Skinner