Years ago, while I was a teenager, a friend of mine showed me an authentic Alaskan Ulu that he had received from a friend of his. I had never seen anything like it and immediately saw the benefits for skinning, food prep and light bushcrafting. I have been a big fan of the Ulu since and as a hunter, when I was designing the Backwoods Skinner I couldn't think of any blade geometry that fit my purpose for this knife like the Ulu. I decided to use the same deep belly of the Ulu for skinning purposes, but opted for a smaller blade and a rear oriented grip for getting into tighter areas and the ability to do finer skinning work.
I went with the straight clip point so that it would allow for the index finger to run up the spine to the tip, allowing you to guide the Backwoods Skinner into tighter spots with greater control. I decided to angle the grip away from the blade in an effort to allow for a natural break to the wrist for better ergonomics and to prevent fatigue in the wrist when working with it for extended periods of time.
I opted for a parasite gut hook to keep it from destroying clothing and sheaths. The grenade pin to affix the gut hook in the handle during use was the stroke of genius added by Leo Espinoza, President of TOPS Knives.
Knife Type: Fixed Blade
Overall Length: 6.75″
Blade Length: 3.00″
Blade Thickness: 0.190″
Blade Steel: 1095 RC 56-58
Blade Finish: Coyote Tan Coating
Handle Material: Green Canvas Micarta
Knife Weight: 5.4 oz
Sheath Included: Yes
Sheath Material: Black Leather
Sheath Clip: Belt Loop
Purchase: https://www.topsknives.com/backwoods-skinner
MEDIA
The Backwoods Skinner, featured in the April 2016 issue of Blade Magazine

DESIGN
You can see from the original drawing that the final product was very close to my original design.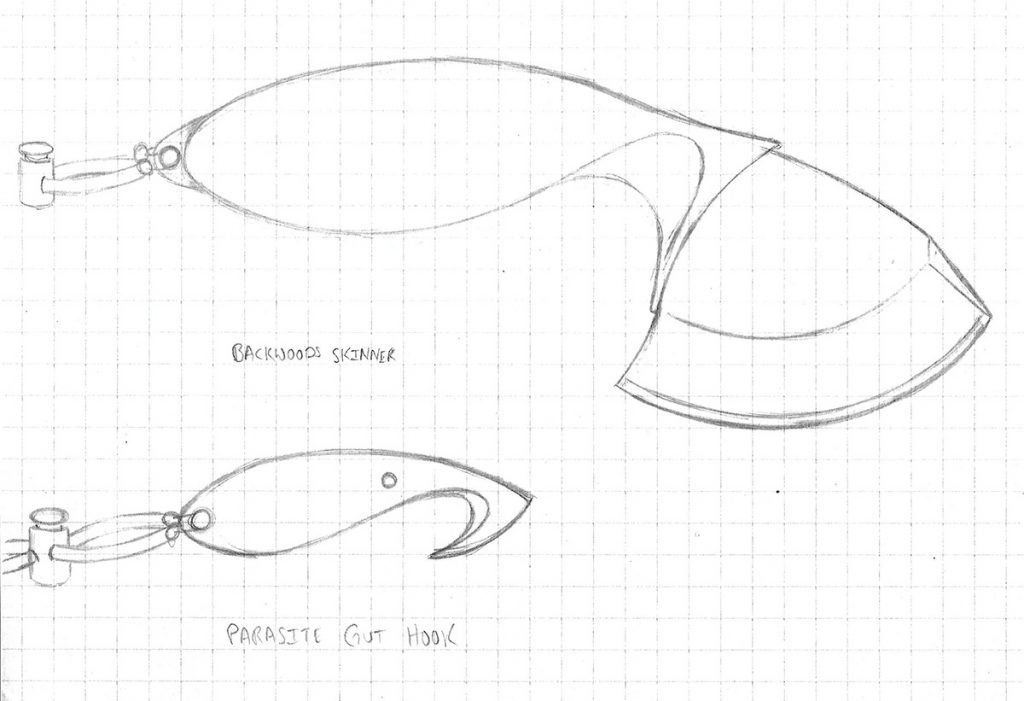 After I create the original drawing on graph paper, I take the design into Adobe Illustrator and create a clean, digital version with measurements.
Due to the nature of the gut hook and its operation TOPS Knives asked that I come up with a sheet with directions on how to use it so they could include it with each knife. Below is the sheet (front and back) with the illustrations I did to demonstrate its operation.